Before 'Walt Before Mickey' opens in theaters all across America this fall, here are 13 facts you'll want to know before seeing the movie. The theme? Try, try again.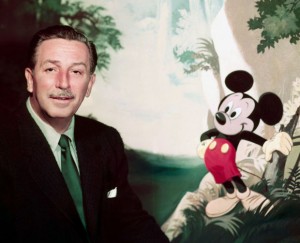 Despite what many stories about Walt Disney would have you think, the world-famous animator wasn't an overnight success. He tried and failed and tried again to build a career for himself in the only field he ever wanted to work: animated films.
The first part of his story is now being told in Walt Before Mickey. Based on the book by Timothy S. Susanin with a foreword by Walt's daughter Diane Disney Miller, the motion picture is the story of Walt's early years from 1919-1928, the period of time before he created Mickey Mouse and released Steamboat Willie (1928).
Mickey wasn't the first cartoon character that Disney created by any means. Another famous one is Oswald Rabbit, but Walt didn't own the copyright to that and he had to let Oswald go. Owning your work was one of the many lessons he learned on the bumpy road to success. By the time Walt created Mickey, he was on his fourth animation company and it is the one that stuck: Walt Disney Studios.
Walt Before Mickey, starring Thomas Ian Nicholas as Walt Disney, Jon Heder as Roy Disney and David Henrie as Rudy Ising, will premiere in Orlando on August 14th, and later in selected theaters across the country. But first, here are 13 facts you will want to know before seeing the movie: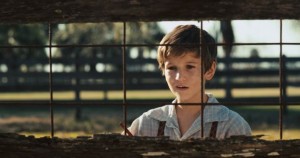 A young Walt in 'Walt Before Mickey.' (Photo: Conglomerate Media)
No. 1: Walt had a strong connection to animals. The Disneys lived on a farm in Marceline, Missouri when Walt was growing up. The farm had been his father's dream. Young Walt's dream was different. He loved sketching, especially animals. In fact, he sold his first drawings to neighbors when he was 7 years old.
No. 2: Elias Disney taught his son the importance of honesty and a good reputation. He also taught him to take risks, and about hard work and persistence. Without those qualities, Walt may not have been bull-headed in his pursuit of a career as an animator and the world would've been without the wonderful, classic Disney films.
No. 3: Elias considered Walt to be the black sheep of the family. Walt's dad just didn't get his son's penchant for sketching, especially when he drew on the side of the family barn. Luckily, Elias lived long enough to see his son become a success. He died September 13, 1941. Even though Elias didn't understand Walt, Walt paid tribute to his father by painting a sign in the window of one of the shops on Main Street USA at Disneyland. It reads: Elias Disney, Contractor, Est. 1895.
No. 4: The Kansas City Years: When Walt's father became ill, they sold the farm and moved to Kansas City. During this time, Walt considered becoming an actor. But he really wasn't good at it. Luckily, when he was 13, he learned that a frame of film was a picture — and he knew he could draw pictures. He became obsessed with animation.
No. 5: Disney was patriotic: Walt quit school at age 16 to enlist in the military. He was rejected because of his youth, but instead of going back to school, Walt joined the Red Cross Ambulance Corps and was sent overseas.
Thomas Ian Nicholas plays Walt Disney in 'Walt Before Mickey.' (Photo: Conglomerate Media)
No. 6: Walt Disney has five siblings, but he was closest to his brother Roy, who was eight years his senior, and who supported Walt in his dreams. In fact, when Walt returned from France after the war, Roy had arranged a job interview for him at an advertising agency, where he could use his skill as an artist. Walt used his sketches from France as his audition for his first post-war position.
No. 7: Walt's first job didn't last long. He was laid off when his employer lost an account. He tried delivering newspapers to make ends meet, but in the end, he decided to start his own company, which he did in the barn.
No. 8: Walt had the idea to take stories from headlines and turn them into animated shorts. It was a good idea and he sold it to the Newman Theater. But he forgot to add in profit. Something his brother Roy pointed out all the way from California, where he had gone to have his TB treated at the Veteran's Hospital. The company — Laugh-o-gram — went bankrupt.
No. 9: Walt moved to California where he lived with his aunt and uncle. His uncle was like his father and just wanted Walt to get a real job. Walt tried going to studios and interviewing, but nothing felt right. He wanted to recapture what he had had at Laugh-o-gram: the ability to take a project from start to finish. He realized he needed to finish what he had started, and finished a film project he had been working on. It was a success. He sold it to Winkler Pictures.
No 10: Walt realized he needed someone who could handle the business side of the business and he convinced Roy to do it. He and Roy launched a new company, hiring some of Walt's pals from Kansas City to work with him.
No. 11: When Roy and Walt needed inkers, they decided to hire women because they worked cheaper. Lillian Bounds walked in and Walt was head-over-heels. She later went on to become Mrs. Disney.
No. 12: When Walt realized that Winkler Pictures, who had copyrighted his Oswald Rabbit character, wasn't going to give him a fair share of the profits, he gambled on himself and decided to create a new character and start from scratch.
No. 13: Walt came up with the idea for Mortimer Mouse, but Lillian told him it was too depressing of a name — and Mickey Mouse was born!
During the 10-year period from 1919-1928, Walt learned that dreams don't come true without a lot of failure. So when you watch Walt Before Mickey, you'll come to understand why he included A Dream is a Wish Your HeartMakes in Cinderella. It's because he felt that way about his own life.
Walt Before Mickey, directed by Khoa Le from a screenplay by Arthur L. Bernstein & Armando Gutierrez, will premiere August 14th at Downtown Disney Orlando. It will be released Sept. 4th in select theaters in Florida, New York, Arizona, California, South Carolina and South Dakota. The DVD and Blu Ray release will be on December 5th.