Based off of the book Walt Before Mickey: Disney's Early Years 1919-1928 by Timothy S. Susanin in which Diane Disney Miller wrote the foreword for, the film Walt Before Mickey takes us through the early career of the genius of imagination Walt Disney. Though the Disney company had no part in this film, we see the same Disney ambition we all are inspired by.
Walt Before Mickey stars Thomas Ian Nicholas (American Pie) as a young Walt Disney, as we see the obstacles that Walt had to face while trying to build his brand from the ground up. We see all of the major happenings in Walt's early life such as creating Laugh-O-Grams, meeting all of the animation pioneers such as Ub Iwerks, Friz Freleng, the Harmans, meeting his wife Lillian, working out of a garage, asking his brother Roy to help with the company's finances and the film also shows the conflict over the rights of Oswald with Charles Mintz. We do even get to see Mickey, which I was surprised at since it the film was not made by Disney.
Being that this isn't a film made by Disney, we get to see things that maybe we wouldn't see in a film that was made by Disney. Things such as Walt's smoking habits, his reasonable frustrations with people or the business itself, and we even get to see how many people were frustrated at Walt from time to time. One thing that I was personally unaware of was that Walt was struggling so bad to pay his rent, due to all his finances going into his animation company, that he was practically homeless and digging in the trash for food.
Now on the acting side, the casting may surprise you. Thomas Ian Nicholas normally does comedy films but he does a pretty good job at portraying young and ambitious Walt, and does slightly resemble him. Jon Heder (Napoleon Dynamite) plays the role of Walt's brother Roy Disney, who helped Walt finance his company. There are times where you can't help but to think of Napoleon Dynamite when you see Heder, but you forget about that by the last act of the film. For the most part, all of the actors did a surprisingly good job whether drama is their element or not.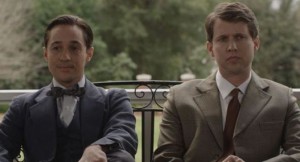 Where this film does great at is the fact that it's relatable. Let's face it, most or none of us have our own billion dollar companies but the fact that Walt and his animators struggled financially and failed to have others believe in their dream, is something we can all relate to, and in that sense, the film is very inspiring. It's a "never give up on your dreams" story and it is the reality that even some of the world's most influential people have their own obstacles to overcome in order to make their visions come to fruition.