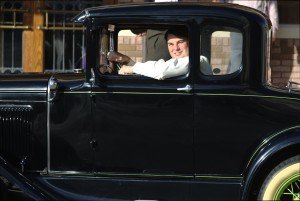 Theater students at Boynton Beach High will have an experience at school Wednesday they'll likely always remember.
Arthur L. Bernstein, a Palm Beach Gardens resident who produced and co-wrote "Walt Before Mickey," will speak to the students Wednesday morning at the school on Park Ridge Boulevard.
The event is from 8:30 a.m. to 11:20 a.m.
"Walt Before Mickey" opens in theaters Friday. It focuses on Walt Disney's life before the creation of Mickey Mouse, according to a news release. Bernstein also appears in the movie.
Local writer Arthur L. Bernstein stars as Frank Newman in "Walt Before Mickey." Contributed by Steven Shea – © The Dreamer Movie, LLC.