'Walt Before Mickey' tells Disney's story from 1919 to 1928
Actor Thomas Ian Nicholas stars as Walt Disney
Miami-born Armando Gutierrez Jr. co-wrote, produced and co-stars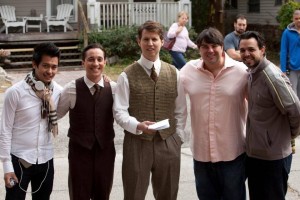 Everyone knows what happened to Walt Disney after he created his beloved Mickey.
A new movie by two South Florida filmmakers tells his tale before the mouse.
Walt Before Mickey, which opens Friday throughout South Florida, explores Disney's early years from 1919 to 1928, when Mickey Mouse got his first starring role in Steamboat Willie, a Disney short considered the first cartoon with fully synchronized sound.
"We all know Walt Disney and the films. It's a world-renown household name, but prior to portraying this role I had no idea about his trial and tribulations, failures and bankruptcy," said actor Thomas Ian Nicholas, who stars as Disney in the movie. "As a young man building his empire or kingdom, it was inspiring to know someone so successful failed."
Nicholas, who played Kevin Myers in the American Pie series, describes himself as a big Disney fan who has visited the theme parks more than 100 times.
Walt Before Disney is adapted from a book by the same title written by Timothy Susanin, with a forward by Disney's daughter, Diane. The film co-stars Jon Heder (Napoleon Dynamite) as Disney's brother, Roy, and Kate Katzman as Walt's wife, Lillian.
The independent movie, filmed in Florida in 25 days, premiered last month in Downtown Disney near Orlando.
Armando Gutierrez Jr., who co-wrote, produced and has a supporting role in the film as animator Ub Iwerks, says Walt Before Mickey will hit close to home to many viewers.
"It can inspire people to not give up," said the Miami-born Gutierrez, whose parents are well-known in political circles here. Father Armando Gutierrez is a lobbyist; mother Maritza is a board member and former chairwoman of the Miami-Dade Expressway Authority.
Gutierrez Jr., who earned a Bachelor of Arts from University of Miami and a graduate degree from Harvard, has also been politically active. In 2010, he ended a brief run for U.S. Congress as a Republican in Orlando. He'll speak Friday night after a 7 p.m. screening at Cobb Dolphin 19 Cinemas in West Miami-Dade.
Walt Before Mickey was cowritten and produced by Arthur L. Bernstein of West Palm Beach, also a UM grad.
"He was an incredibly amazing man; he took animation to a new level with groundbreaking technology and masterful storytelling," Bernstein said in a news release. "Generation after generation have grown up with Walt Disney animated movies. Armando and I were shocked to discover that no one had ever done a movie about Walt's early years. We wanted to show the man behind all the magic; where he started and how Walt Disney Studios began. We wanted people to see that he was more than the movies and theme parks."